Anderson and partner Veeraj Shah's startup nonprofit organization, Chat Health, will be showcased as the competition continues through April 2021.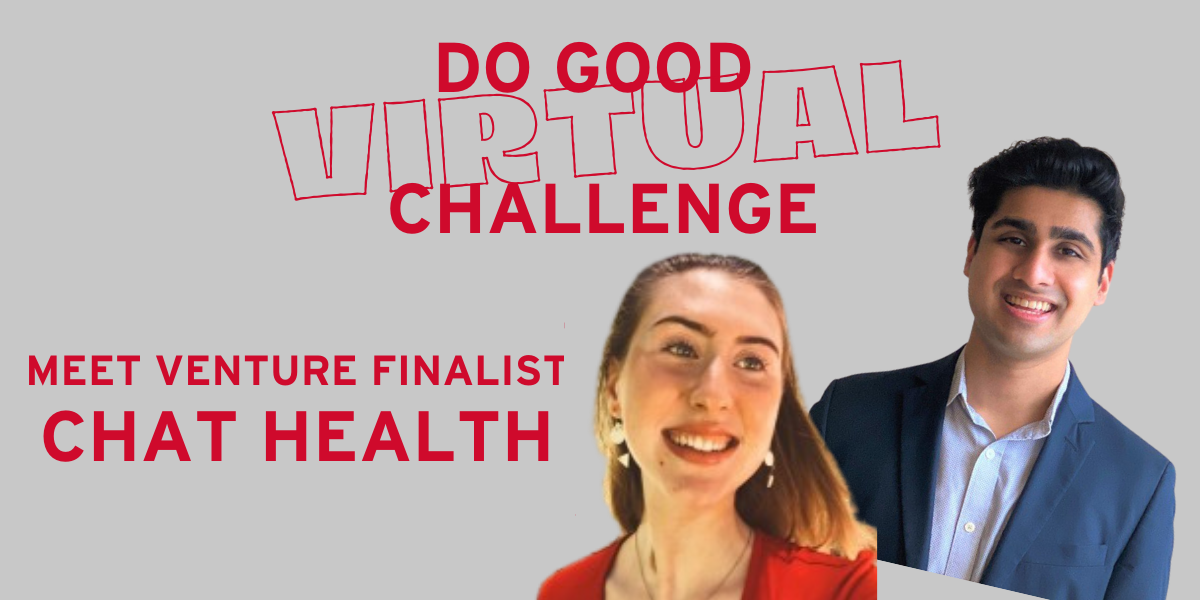 Jesse Anderson, College of Information Studies (left); Veeraj Shah, School of Public Health (right)
the_post_thumbnail_caption(); ?>
In the annual Do Good Challenge, hosted by the University of Maryland (UMD) School of Public Policy Do Good Institute, students from across the campus spend the year advocating, fundraising, volunteering, and developing solutions for pressing social issues. The Challenge culminates in a Finals event where six teams pitch their project or venture and the impact they've made for the chance to win a share of more than $20,000.
This year, Jesse Anderson, a student in the UMD College of Information Studies Bachelor of Science in Information Science program, along with partner Veeraj Shah of the UMD School of Public Health, were selected from a highly competitive group of entries in the challenge to be one of the six final teams! Their startup nonprofit organization, Chat Health, will be showcased as the competition continues through April 2021.
Chat Health, founded by UMD undergraduate students, is bridging the gap between college students and medically-accurate health information through accessible SMS chatbots, which use artificial intelligence to mimic human conversation. More than 4,000 students have used their chat services, managed by 40 volunteers, and the organization has signed an MOU with the University Health Center for sustained partnership and support.
The chatbots attempt to centralize and digest the abundance of information about Covid-19—breaking down a challenging topic to give users the information they need without getting overwhelmed. Chat Health bots cover the basics of what the disease is, contextualizes statistics, explain some common phrases like 'social distancing', and aim to counter the spread of misinformation with accurate, medically-supported explanations. All responses are vetted hourly by Chat Health's public health volunteers to ensure timeliness and accuracy. The SMS-bot is available from 9am-8pm, with the Telegram bot available 24/7.
The Do Good Challenge Finals will happen as a series of virtual events on Thursdays throughout "Do Good Month" in April. Attendees can watch video pitches, explore virtual Q&As, get insider-looks at student teams' work throughout the month, vote for their favorite teams, and tune-in live for the culminating Do Good Challenge Awards Premiere.
April 1, 2021: Do Good Challenge Kick-Off
April 8, 2021: Finalist Pitches and Q&As
April 15, 2021: Final Day for Audience Voting
April 29, 2021: Do Good Challenge Awards Premiere
Subscribe TO Challenge Updates