A list of some of the collaborative research and innovative designs developed by the HCIL's faculty, staff, and students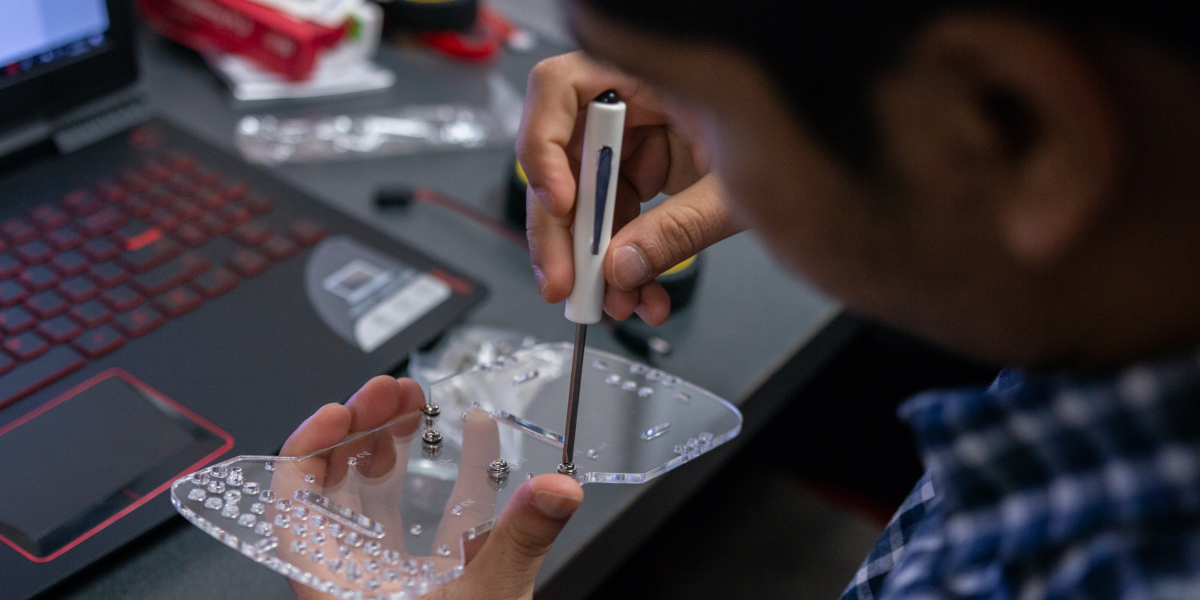 the_post_thumbnail_caption(); ?>
The Human-Computer Interaction Laboratory (HCIL) at the University of Maryland brings together researchers and students from various disciplines, including computer science, psychology, design, and social sciences, and is dedicated to the study and design of interactive technologies that improve the human experience with technology. The HCIL conducts research in areas such as user experience design, accessibility, augmented reality, and mobile computing. Here is a list of some of the collaborative research and innovative designs developed by the lab's faculty, staff, and students:
Hyperties (1984)
Ben Shneiderman, Catherine Plaisant
Hypertext is an electronic system of interconnected text, images, and other media that allows users to navigate and access information by clicking on hyperlinks within the content. Hypertext is commonly used to create websites and web pages, where users can move between pages or sections by clicking on links. Hypertext also allows for non-linear, interactive reading experiences, where users can choose their own paths through a series of interconnected pages or documents.
High-precision Touch Screens (1989)
Catherine Plaisant, Ben Shneiderman
This project developed high-precision touch screens for small keyboards and home control devices, based on lift-off technology.
Treemaps (1990)
Catherine Plaisant, Ben Shneiderman, Gouthami Chintalapani, Aleks Aris
Treemaps are a type of visualization tool used to display hierarchical data in a rectangular layout. In a treemap, each data point is represented by a rectangle, and the size of the rectangle represents the value or importance of the data point. The rectangles are organized in a hierarchy, with larger rectangles containing smaller ones to show relationships between data points.
Spotfire (1992)
Ben Shneiderman, Christopher Ahlberg
Spotfire is a data visualization and analysis software tool that helps businesses and organizations to understand and analyze their data, generate insights, and make informed decisions. It offers advanced analytics capabilities, interactive dashboards, and various visualization options to display data in an easily comprehensible way. Spotfire is widely used in industries such as finance, healthcare, manufacturing, and energy to improve decision-making, optimize processes, and identify new business opportunities.
KidsTeam Begins (1998)
Allison Druin, KidsTeam Kids
KidsTeam begins designing collaboratively with young users, involving children in the evaluation and prototyping process.
PhotoFinder and PhotoMesa (1999)
Ben Shneiderman, Catherine Plaisant, Ben Bederson
A series of tools for personal photo library tagging, exploration, and management, including PhotoFinder and PhotoMesa.
PETS (1999)
Jaime Montemayor, Allison Druin, Jim Hendler, KidsTeam
The Personal Electronic Teller of Stories is a robotic pet that can support children in the storytelling process.
International Children's Digital Library Launches (2002)
Tim Browne, Allison Druin, Ben Bederson, Ann Carlson Weeks
A multilingual collection of children's books, the ICDL is now the largest virtual library of its kind in the world.
NodeXL (2007)
Ben Shneiderman, Derek Hansen, Marc A. Smith
NodeXL is a free, open-source tool for network analysis and visualization.
StoryKit (2009)
Allison Druin, Ben Bederson, Elizabeth Bonsignore
StoryKit is a user-friendly app for creating multimedia stories, appealing especially to younger users.
Future of Information Alliance Launches (2011)
Allison Druin, Ira Chinoy, Anne Rose
The Future of Information Alliance aims to identify opportunities and challenges around the rapidly evolving role of information, and serve as a catalyst for discussion, research, and action at UMD and beyond.
Project Sidewalk (2012)
Jon Froehlich
Project Sidewalk launched in 2012 to "develop scalable data collection methods for acquiring sidewalk accessibility information using a combination of crowdsourcing, computer vision, and online map imagery" and "to design, develop, and evaluate a novel set of navigation and map tools for accessibility." The project spans four continents and, in 2023, announced its expansion to a 14th city (Taiwan).
The Nick App Wins Emmy (2013)
Allison Druin, KidsTeam
The Nickelodeon app, created with input from Kidsteam (including the Do Not Touch button), is honored with a Primetime Creative Arts Emmy for Outstanding Creative Achievement in Interactive Media – User Experience and Visual Design.
Morphic (2021)
Gregg Vanderheiden, Bern Jordan, Trace Team and International Team
Three operating system extensions that were released as open-source are bundled together under the name of Morphic. One makes built-in accessibility features easier to find and operate–greatly increasing awareness and use of them. A second allows a user's accessibility settings, for both built-in accessibility and third party assistive technologies, to follow a user between different computers. A third allows for the creation of custom MorphicBars that provide one-click access to features, applications, websites and more for users who are otherwise unable to use computers effectively. Morphic was released through partner non-profit Raising the Floor free of charge and is now installed on computers campus-wide at major universities, library systems, and rehabilitation services in addition to individual installations.
Assistive Technology on Demand (AToD) (2023)
Gregg Vanderheiden, Bern Jordan, Trace Team and International Team
Assistive Technology on Demand (AToD) is a service that works with Morphic and allows an individual's assistive technologies to follow them to any public or shared computer they sit down to. When they sign in at a computer, Morphic uses the person's stored preference to identify the assistive technologies that they need, and calls AToD to install them (from the cloud or a secure location on the organization's server) onto the computer and configure it to be the same as their home computer–or computer setup created by clinician or therapist. AToD allows users who need assistive technology, but have no home or personal computer, to be able to use computers to do homework for the first time, by being able to use public/shared computers like everyone else.