Events
HCIL BBL Speaker Series: Automating the News: How Algorithms are Rewriting the Media
Event Start Date: Thursday, February 11, 2021 - 12:30 pm
Event End Date: Thursday, February 11, 2021 - 1:30 pm
Location: Virtual
---
AUTOMATING THE NEWS: HOW ALGORITHMS ARE REWRITING THE MEDIA
When: Every Thurs during the semester from 12:30p – 1:30p ET
Where: For Zoom info, register here!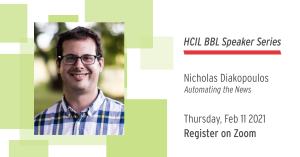 Abstract.
Amid the push for self-driving cars and the roboticization of industrial economies, automation has proven one of the biggest news stories of our time. Yet the wide-scale automation of the news itself has largely escaped attention. In this rapidly shifting terrain, Nicholas Diakopoulos focuses on the people who tell the stories—increasingly with the help of computer algorithms that are fundamentally changing the creation, dissemination, and reception of the news.
Diakopoulos reveals how machine learning and data mining have transformed investigative journalism. Newsbots converse with social media audiences, distributing stories and receiving feedback. Online media has become a platform for A/B testing of content, helping journalists to better understand what moves audiences. Algorithms can even draft certain kinds of stories. These techniques enable media organizations to take advantage of experiments and economies of scale, enhancing the sustainability of the fourth estate. But they also place pressure on editorial decision-making, because they allow journalists to produce more stories, sometimes better ones, but rarely both.
Bio.
Nicholas Diakopoulos is an Associate Professor in Communication Studies and Computer Science (by courtesy) at Northwestern University where he directs the Computational Journalism Lab. He is also a Tow Fellow at Columbia University School of Journalism as well as Associate Professor II at the University of Bergen Department of Information Science and Media Studies. His research focuses on computational journalism, including aspects of automation and algorithms in news production, algorithmic accountability and transparency, and social media in news contexts. He is author of the book, Automating the News: How Algorithms are Rewriting the Media, published by Harvard University Press. Recently he was a resident researcher in the Computational Political Journalism Lab at the Washington Post. He received his Ph.D. and M.S. degrees in Computer Science from the School of Interactive Computing at the Georgia Institute of Technology, and his Sc.B. degree in Computer Engineering from Brown University.