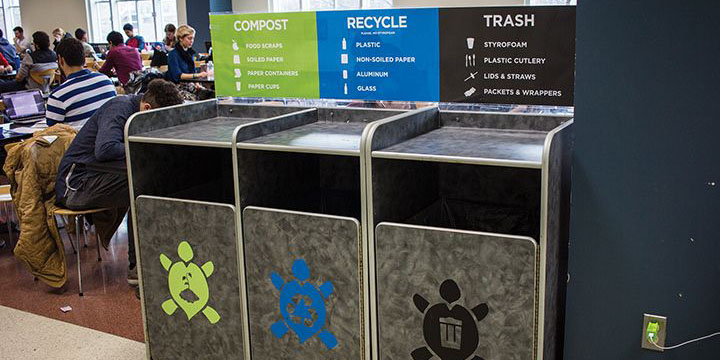 Recycling bins in Stamp Student Union (Photo Credit: Enoch Hsiao, The Diamondback; image cropped for website)
the_post_thumbnail_caption(); ?>
For the time being, University of Maryland students' empty pickle jars, glass cold brew containers and drained tomato sauce jars have a new home: the landfill.
The university nixed its glass recycling program this semester after its processor, Olive Street Processing, stopped accepting glass from all of their customers.
Barbara Gear, general manager at Olive Street Processing, said the company stopped recycling glass in January partly because glass is in a "negative market" — meaning that it can cost more to recycle than it's worth. And once the glass reaches the processor, it's often in pieces.
"[This] makes it difficult for me to pull out glass," Gear said, "Which rides up my processing costs to recycle it."
The university negotiated a contract with Olive Street Processing to continue recycling glass until Sept. 1. University officials are in the process of finding a new recycling partner to keep glass out of the landfill.
New signs popped up in campus residence halls, informing students of the policy change, but Facilities Management is still working on swapping signs in other campus buildings.
The change extends beyond this university. Nearby regions in Virginia, including Arlington and Prince William County have also eliminated glass recycling. Andrew Fellows, who runs a program designed to increase university engagement with community sustainability efforts, said that the recycling change starts on the global level.
The glass recycling market has declined in recent months because China no longer accepts U.S. glass, said Fellows, the head of Campus Community Connection.
"The path of where our waste goes and where our recycling goes is an interesting but complex story," he said.
When facilities change the amount of recycling they're willing to take — even if they're on the other side of the world — the economics change on the local level, Fellows said. For Joe Mullineaux, Dining Services' senior associate director, that means trading glass products out for other materials in campus dining establishments, concessions stands and convenience stores.
Qdoba's Mexican Pepsi, along with some beer and wine bottles sold at stadium events, are among the few glass products that Dining Services still uses, Mullineaux said.
Mullineaux has found that seeking out glass-free food packaging is difficult. Pasta sauces, marmalade and other condiments are almost exclusively packed in glass jars, he said. He's still looking for glass alternatives in convenience stores.
Jacob Mast, a senior environmental science and technology major, said he supports the university's policy change partly because of the energy-intensive recycling process. Often, recycling glass is less efficient than producing it, he said. He called the idea of continuing to recycle it just for the optics "greenwashing" — a term used to describe unsubstantiated claims of environmental friendliness.
"To say 'no, we're going to recycle glass no matter what' — that would be more of, you know, just playing to what the public already thinks is sustainable," he said.
Mullineaux said Dining Services started recycling glass about 30 years ago. Glass weighs more than plastic alternatives, so he and his team had already been working on eliminating glass packaging to keep transportation costs down.
The change was unexpected, he said.
"Glass and cardboard were the very first things we started recycling, even before the campus started recycling," he said. "I was shocked that glass was no longer in demand."
Mast, who washes out his glass pasta containers and repurposes them for different uses, said he thinks the university should publicize the change more so students don't contaminate recycling.
But even more key, Fellows said, is the need to reduce. Minimizing packaging in the first place is "actually the most important thing," he said.