A list of UMD Grand Challenges Grants received by the UMD INFO College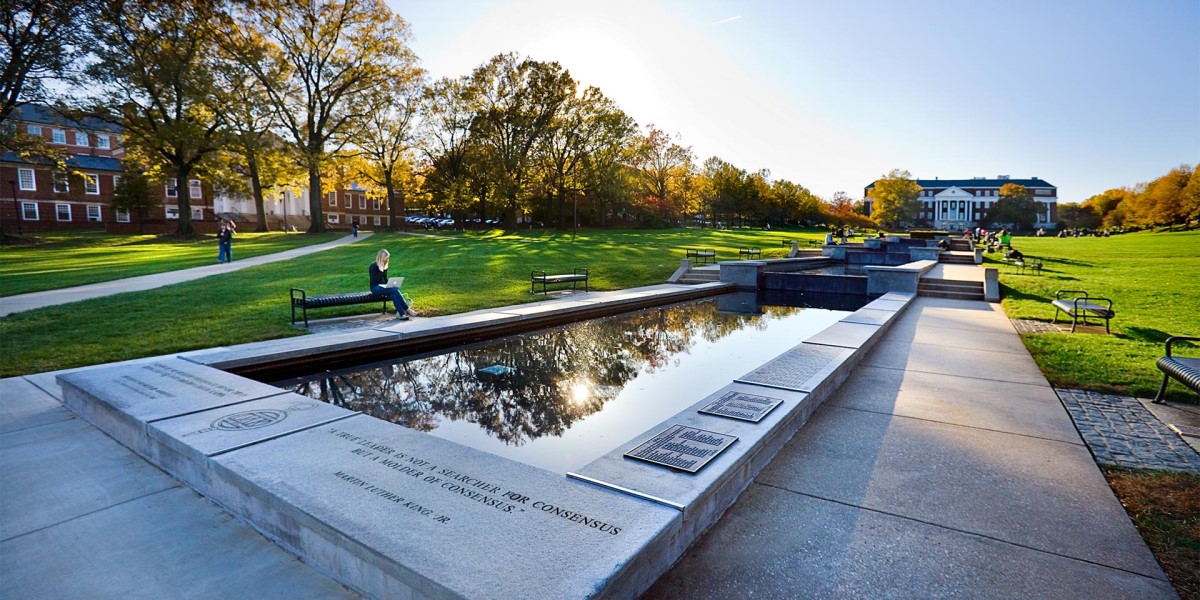 the_post_thumbnail_caption(); ?>
From raising literacy rates in vulnerable communities, to creating more accessible digital technologies and content, to improving equity-focused teaching practices in K-12 mathematics classrooms, University of Maryland College of Information Studies (INFO College) faculty are leaders in addressing humanity's grand challenges. On February 16, 2023, the university recognized their impactful work when it awarded 7 of its 50 Grand Challenges Grants to 20 faculty from across the college. INFO College faculty received Grand Challenges Grants in all four categories: one Institutional Grant, three Impact Awards, two Team Project Grants and one Individual Project Grants.
First announced in April 2022, the Grand Challenges Grants Program is the largest and most comprehensive program of its type in the university's history. The grants total more than $30 million in institutional investments in programs, initiatives, and projects that confront urgent challenges, such as racial inequity, climate change, and sustainability. The university reviewed 135 submissions and chose recipients of three Institutional Grants (up to $1 million per year for three years), six Impact Awards (up to $250,000 per year for two years), 16 Team Project Grants (up to $500,000 per year for three years) and 25 Individual Project Grants (up to $50,000 per year for three years). A total of 185 faculty from all 12 of the university's schools and colleges are participating in the Grand Challenges Grants Program.
The INFO College received the following Grand Challenges Grants:
Institutional Grant: Maryland Initiative for Literacy and Equity (MILE). In the field of literacy, there is a global chasm between the science of language and literacy acquisition and the practice of teaching children how to read and write. Basic and translational research on language and literacy acquisition often overlooks or minimizes social and cultural contexts, leading to deficit perspectives toward culturally and linguistically diverse students, families, and communities. MILE will harness research-to-practice partnerships in the fields of education, speech and language pathology, library sciences, policy, and community stakeholder outreach. These efforts are aimed at driving integrative research, both translational and basic, that is contextualized with respect to marginalized communities across race, culture, ethnicity, and language, as well as neurodiverse populations. Led by Donald Bolger of the College of Education (EDUC), this initiative also involves University of Maryland College of Arts and Humanities (ARHU), College of Behavioral and Social Sciences (BSOS), INFO, and School of Public Policy (SPP), as well as colleagues from Morgan State University. Assistant Research Scientist Beth Bonsignore is a key member of the team.
Impact Award: Maryland Institute for Digital Accessibility. The world of digital technologies and content is designed to meet the needs of the average person, often creating inaccessibility for people with disabilities. That means that over 20% of people are structurally excluded from education, employment, and healthcare. The Maryland Institute for Digital Accessibility will make technology accessible and help make the world more inclusive of and for people with disabilities. Their goal is to change technology design research and practice so that it involves the disability community as an equal partner, accessibility is proactively built-in, and technology is "born-accessible." Successfully transforming technology research and development to be born-accessible and sustainable requires the involvement and advocacy, from the beginning, of disability rights groups as equal partners with academic researchers and with technology companies. Led by Professor Jonathan Lazar, this initiative also involves College of Computer, Mathematical and Natural Sciences (CMNS), A. James Clark School of Engineering (ENGR), EDUC, ARHU, BSOS, School of Public Health (SPHL), University Libraries, University Career Center, Division of Information Technology (DIT), ADA Compliance Office, and TerpsEXCEED Program. The team also includes Professor Paul T. Jaeger, Assistant Research Scientist J. Bern Jordan, Assistant Professors Hernisa Kacorri, Amanda Lazar, and Outreach Coordinator Elizabeth Zogby.
Impact Award: Values-Centered Artificial Intelligence. Artificial Intelligence (AI) presents tremendous opportunities for improving the lives of billions of people in areas including healthcare, education, transportation, and communication — to name just a few. However, AI solutions that address societal problems in high-stakes settings cannot be developed in isolation. These technologies need to be designed and evaluated within the contexts in which they will be deployed, and respect the human norms, values, and societal expectations that govern those contexts. The goal of their center is to promote the development of AI in a way that is not only ethical, but that advances human well-being more generally. The center will focus on development of the tools, theories, and practices needed to ensure that AI applications are transparent, fair and trustworthy, support human creativity, and facilitate privacy – in short, that they respect human values. Led by Professor Hal Daumé III (CMNS), Associate Professor Vanessa Frías-Martínez, Professor John Horty (ARHU), and Associate Professor Katie Shilton, this initiative also involves BMGT, BSOS, and EDUC. The team also includes Assistant Professor Joel Chan, Associate Professor Sheena Erete, Assistant Professor Hernisa Kacorri, Associate Professor Susannah Paletz and Assistant Professor Ido Sivan-Sevilla.
Impact Award: Pandemic Preparedness Institute (PPI). Since 2020, the world has been impacted by a devastating pandemic, leaving millions of people dead. COVID-19 revealed failed communication, inequitable impacts, and the lack of a proactive and coordinated response that was evidence-based. The pandemic further revealed that, although system-level responses and resources are necessary, we also need to understand human behaviors in public health emergencies. Social and behavioral science research can provide this knowledge for action.
PPI integrates a broad array of social and behavioral sciences to learn from COVID-19 and other disasters to better prepare for future public health emergencies.
Led by Cynthia Baur (SPH) and Brook Fisher Liu (ARHU), the initiative also involves BSOS, EDUC, and the Philip Merril College of Journalism (JOUR). The team also includes Associate Professor Beth St. Jean and Assistant Professors Cody Buntain and Naeemul Hassan.
Team Project Grant: M-Powering Teachers: ML to Improve Equity in K-12 Math. Led by Jing Liu (EDUC), this interdisciplinary study combines cutting-edge machine learning techniques, rich educational theory, and behavioral sciences to deliver an effective, affordable, and scalable mechanism to measure and improve equity-focused teaching practices in K-12 mathematics classrooms. The team includes Assistant Professor Wei Ai.
Team Project Grant: Fostering Inclusivity Through Technology (FIT). Led by Yi Ting Huang (BSOS), this team will build a video-calling platform that promotes mutual understanding in neurodiverse workplaces by highlighting team sentiment, building rapport with strangers, connecting past and current topics in conversations, and unobtrusively identifying and resolving misunderstandings. The team includes Assistant Professor Ge Gao.
Individual Project Grant: Digital Equity Mapping Research and Training Program. Tara Burke (Faculty Specialist in ARCH and PhD student in INFO) is interested in how, in some urban communities, the digital divide tends to reinforce social and economic disparity and exacerbate existing inequalities, including access to employment and health care. She will develop a digital equity research and training program—in priority neighborhoods in Prince George's County, Maryland—to educate, empower, and benefit community members in describing and prescribing local solutions. In collaboration with community leaders, she will co-develop and deploy a longitudinal broadband access survey, create an evolving digital access map to surface digital inequalities, and disseminate advocacy information and resources to inform future targeted investments in local neighborhoods.