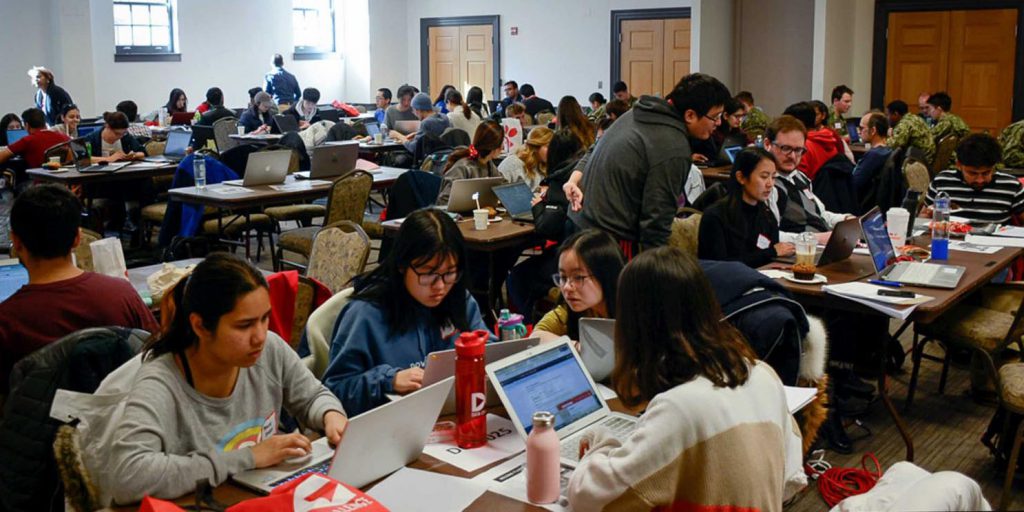 UMD's third annual Data Challenge (Photo by Jelena Dakovic)
the_post_thumbnail_caption(); ?>
Originally posted in Maryland Today
It was just after 10 a.m. at the Stamp Student Union, and some of the region's best data scientists were huddled around Sarah Kim's laptop as she and her teammates talked trash—specifically, which borough of New York City is the worst at recycling it.
The occasion was UMD's Data Challenge 2020, a weeklong competition where analytics, model scenarios and dashboards reign supreme. But those vying for top honors Saturday weren't just computer science and applied math majors, but also students from non-STEM fields like architecture, public policy, international studies—or in Kim's case, violin performance.
"Why am I participating in a data challenge? I've gotten this question a lot this past week," laughed Kim. "I saw the flyer and thought it sounded like an interesting experience, so I recruited some of my friends to form a team. It's totally real-world and that was appealing to me."
UMD's third annual Data Challenge rallied 146 students from programs across campus to creatively transform data into information that could be used to tackle theme-specific challenges. With the help of mentors from sponsors including Booz Allen Hamilton, Amazon Web Services and U.S. Housing and Urban Development, each team project aimed to tell a story by looking at patterns and anomalies within a specific data set, using GIS, analytics and other tools.
"Data today is so much more accessible and has the ability to shape our society in new and innovative ways," said National Center for Smart Growth Director Gerrit-Jan Knaap, one of the event's organizers. "In the built environment fields, we're seeing data analytics play a huge role in planning and developing sustainable cities, in transportation, and in designing energy-efficient, healthy buildings. Exercises like the Data Challenge are a great way to expose students across the university to how these tools can advance virtually any discipline."
The Data Challenge was hosted by the College of Information Studies, the School of Architecture, Planning and Preservation and the Philip Merrill College of Journalism, with support from a number of campus units. In addition to graduate and undergraduate students from UMD, this year's challenge also hosted teams from the University of Maryland, Baltimore County and the U.S. Naval Academy.
This year's theme, sustainable planet, presented 11 possible data sets for the students—some wearing "Talk Data to Me" T-shirts—to choose from at various levels of difficulty. After conferring with mentors at the Challenge's kickoff, teams had a week to construct a compelling story before final presentations on Saturday. Among the 59 projects presented, students illustrated some of the worst morning commutes in the D.C. region, why some West Coast counties were better than others at beach cleanup, and how events, time of day and weather influence how the UMD community travels around campus.
"This was ideal for us in that we had just gathered all of this data and didn't have the time or resources to see what it meant," said Tom Werth with UMD's Department of Transportation Services, who provided traffic sensor data that can differentiate bicyclists, buses, pedestrians and cars at five intersections around campus.
Data analytics has become a breakout tool for organizations and corporations to explore human behavior or natural phenomena, quickly gather information, influence decision making and find solutions to a variety of challenges. Applications are seemingly endless, from testing neighborhood development scenarios and plotting the spread of a virus to winning Super Bowls and predicting the Academy Awards. In 2002, for example, Target used data analytics to identify and market to expecting mothers by analyzing female customers' shopping habits. Its ubiquity has led to more interest among non-STEM students.
"For students who are analyzing a data set for the first time, itching to try machine learning or work on real-world data, stuff they might not get to do in class, the Data Challenge is a great opportunity," said Kathy Weaver, senior lecturer of information studies and event organizer. "This is a way for students to challenge themselves in a safe and supportive environment in new and exciting ways. We're hoping the feedback they get from the judges inspires them to learn more about data analysis as an innovative tool for discovering information."
Nichelle Rahming-Williams '22, an architecture major who has just started to learn more about using data in green building design, said the Challenge provided an experience that will serve her well in both education and practice.
"We were really excited to do this," she said. "It's just a good opportunity for us to step outside our field and learn some extra knowledge and still apply it back to our field."
Sharika Sylvester, a lead data scientist with Booz Allen Hamilton, explained that emerging professionals who are familiar with data interpretation and visualization and can navigate it within their field are in demand.
"We're committed to educating our workforce and try to apply what we do at Booz Allen to the community in order to increase our presence, but also recruit individuals who have a decent ability in data science," she said. "Events like the Data Challenge are a really good way to introduce ourselves to the community and look for talent."