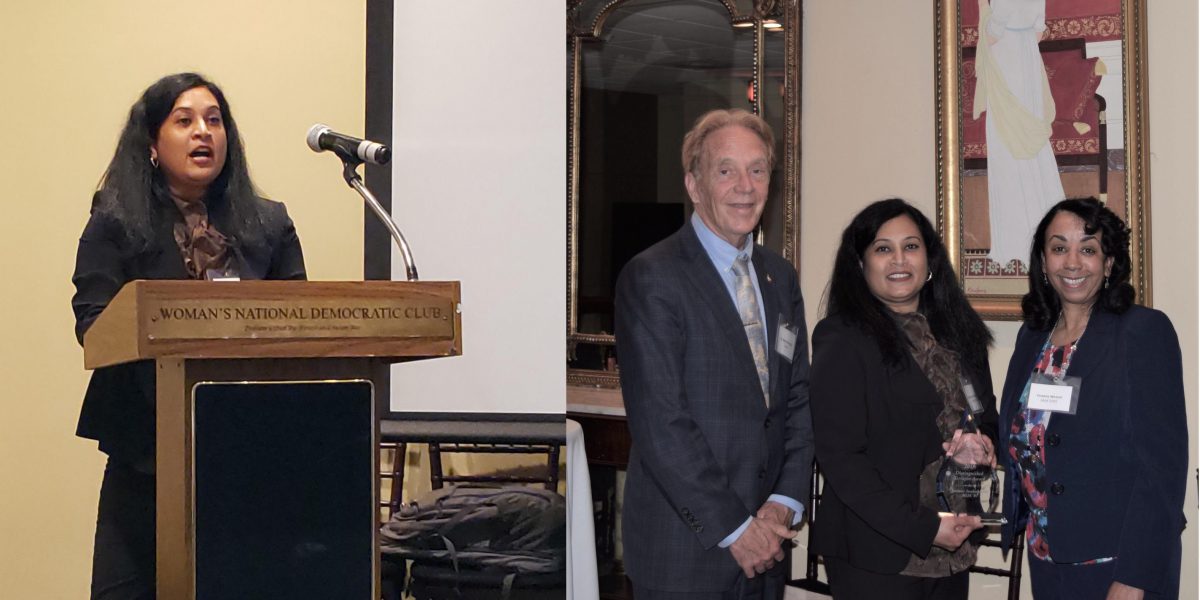 the_post_thumbnail_caption(); ?>
Jamuna Sundararajan, the President and CEO of Cyberbahn Federal Solutions LLC, was recognized as the 2019 Distinguished Terrapin at the iSchool Alumnus of the Year Event on April 25, 2019. This is the highest award given to alumni and recognizes individuals who excel in their field of expertise and provide value to the communities in which they serve.
Cyberbahn Federal Solutions LLC was Jamuna's dream since 1995. She was able to make it a reality in 2014 after 22+ years of experience in IT consulting and business development. Cyberbahn is one of the fastest-growing, woman-owned small businesses in the DC metro area providing information technology, management consulting, training, and support services primarily to the federal government.
Ms. Sundararajan received a Master's in Information Management (MIM) from the University of Maryland College of Information Studies (UMD iSchool) in 2005.
During her acceptance speech, Ms. Sundararajan revealed her appreciation for the courses in the MIM program and how they helped her in several ways. She cited how the tools, techniques, connections from the iSchool community, and real life experience from the capstone projects helped her to navigate her career. She has served as information architect, project manager, and program manager in leading firms before starting her own company in 2014. She mentioned how this advanced degree made her to be an agile leader and how it helped to set the right strategy to build a strong information management foundation for Cyberbahn. She conveyed her interest to give back to the iSchool community by giving opportunities to deserving iSchool graduates in her company and also to provide training webinars in different nascent technologies such as Blockchain and Agile Consulting.
Ms. Sundararajan expressed her gratitude to be an iSchool alumnus and that she will always strive to carry forward its legacy.