"The Black Librarian in America" commemorates the 50th anniversary of the Black Caucus of the American Library Association (BCALA)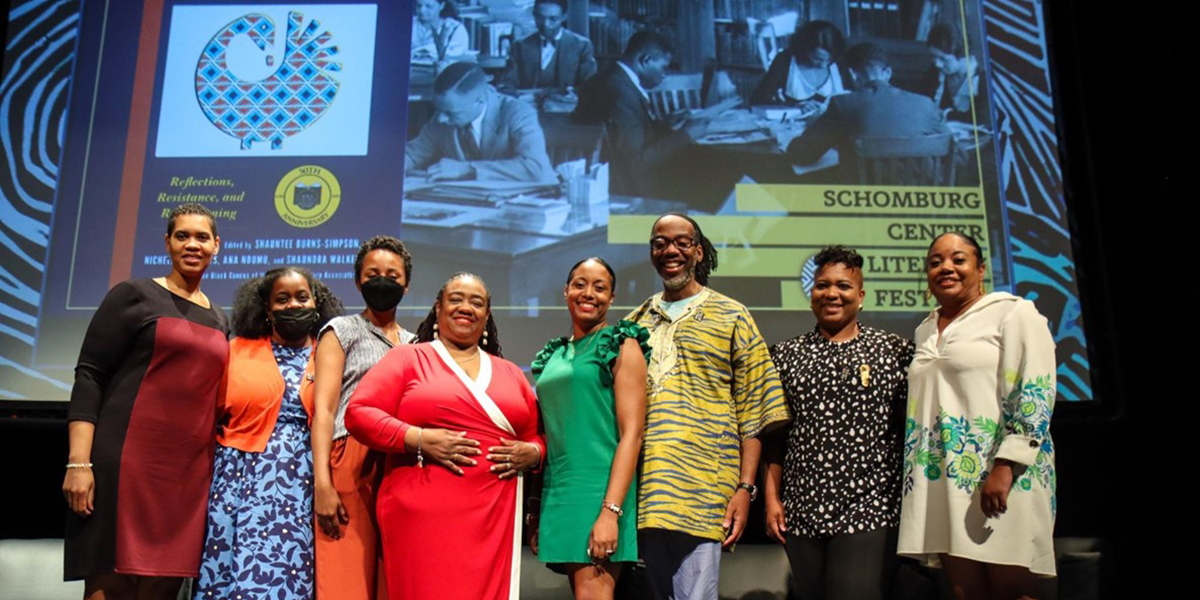 the_post_thumbnail_caption(); ?>
Authors and editors presenting at the NY Public Library's Schomburg Center for Research in Black Culture in June 2022.
In 2020, the Black Caucus of the American Library Association (BCALA) turned 50, and with this celebration also came calls from around the country for BCALA to weigh in on various crises. With 2020 also being a year of unrest in the wake of COVID-19 and the prominence of police brutality, BCALA leaders were asked to express their feelings on the collective state of the country. The moment was fit for renewed conversations on the importance of Black library work.
Dr. Ana Ndumu, an assistant professor at the University of Maryland (UMD) College of Information Studies (iSchool) and BCALA executive board member, is one of four co-editors of this latest edition that is organized in four broad thematic sections – A Rich Heritage: Black Librarian History, Celebrating Collective and Individual Identity, Black Librarians Across Settings, and Moving Forward: Activism, Anti-Racism, and Allyship. Each section contains chapters written by librarians, archivists, library advocates—all members of BCALA.
The Black Librarian series was first published in 1970 by the late Dr. E.J. Josey, an African American library luminary. The latest edition stands out in that it is not only edited entirely by Black women, but it is officially produced by the members of the BCALA in commemoration of the organization's 50th anniversary. The Black Librarian in America: Reflections, Resistance, and Reawakening further differs from previous iterations of the Black Librarian in America volume in that it explores broader issues pertaining to Black librarians' intersectional identities and experiences, rather than focusing solely on the library types or settings. It particularly spotlights mentorship as a critical component of Black success in GLAM (galleries, libraries, archives, museums) institutions.
Ndumu's hope for this book is to inspire people to think more deeply about race-making in the U.S. and how only 12% of librarians in the U.S. are people of color, of which only 6% are Black or African American. Ndumu remarked on this latest installment that, "We were trying to expand what Black librarianship means by including people on the margins even within this very marginal professional population."  Chapters highlight the experiences of Black librarians in the U.S. west, those who live with disabilities, and more. In addition to editing, Ndumu contributed a chapter written about Robert Wedgeworth, a Black librarian who held several positions, often simultaneously. Wedgeworth  established ProLiteracy Worldwide, a global literacy organization, and for 12 years led as the Executive Director of the American Library Association (ALA). Additionally, he served as Dean of the School of Library Services at Columbia University. Dr. Wedgeworth represents the vastness and dynamism of Black librarianship. In a separate chapter, Shannon Bland, a UMD iSchool alumna, co-wrote about being a digital influencer who created the @BlackLibrarians page on Instagram, which has garnered over 34,000 followers.
Along with Ndumu, The Black Librarian in America was co-edited by Shauntee Burns-Simpson, former President of the BCALA and director of School Support & Outreach for the New York Public Library; Nichelle Hayes, BCALA president and director of the  Indianapolis Public Library, and Dr. Shaundra Walker, library director at Georgia College. When asked to reflect on their time working together, Burns-Simpson shared that "being an editor for The Black Librarian was truly one of the highlights of my presidency. Having the opportunity to work on such an important project with amazing professionals is an experience I'll never forget. I'm so proud of the work we accomplished, and the publication is a resource for the overall library profession to utilize."
Learn more about and get a copy of The Black Librarian in America: Reflections, Resistance, and Reawakening.
About the BCALA:
The Black Caucus of the American Library Association (BCALA) serves as an advocate for the improvement of library services and resources to the nation's African American community. It also provides leadership for recruiting and fostering African American or Black librarians. BCALA is the oldest of the national ethnic groups affiliated with the American Library Association. Throughout its more than 50-year history, it has served as a conscience for the library profession, speaking out on issues that affect librarians and communities of color. BCALA continues to be a thriving organization of more than 1,100 members across all 50 states.