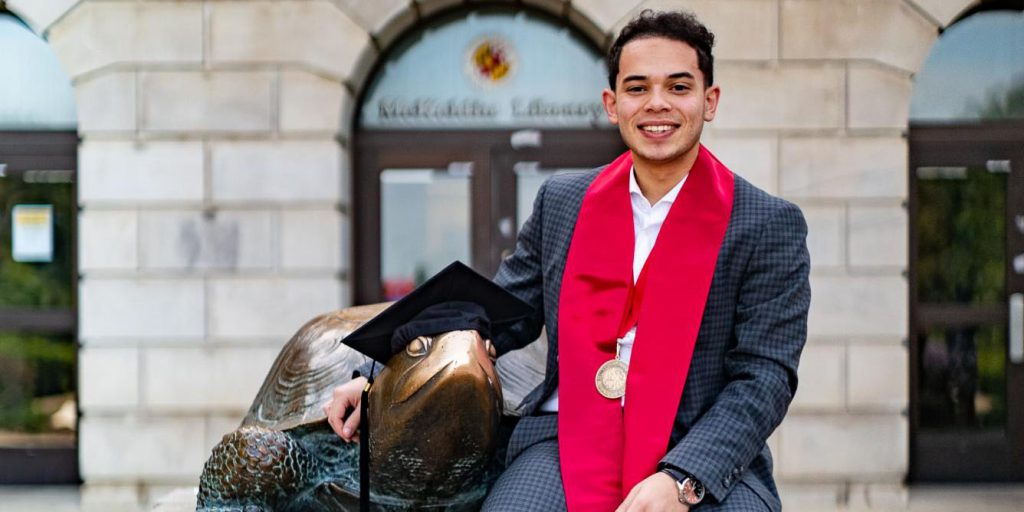 the_post_thumbnail_caption(); ?>
Fearless InfoSci (BSIS) graduate, Omar Youssef '19, works at Deloitte as a Cyber Risk Consultant for civil government clients. His work involves coding, data analytics, and data visualization to assess cyber and security challenges associated with threats and vulnerabilities. Working in this high-demand field requires specialized knowledge and skills, which Omar proudly obtained at the UMD iSchool.
"The InfoSci program teaches us technical skills ranging from coding to data visualization to UX/UI. All of these skills are in extreme demand in the market, which makes the program even more valuable," says Omar. "The program is very people-focused and up-to-date, which I really appreciate because once I graduated, I felt like I had all the skills necessary to excel in the workforce right out of the gate."
Prior to Deloitte, the technical skills that Omar learned also opened doors for him at an AT&T internship, where he worked with their advertising and analytics team to build out user profiles for targeted advertising.
In addition to technical skills, the InfoSci program taught Omar to work in a group setting and manage team dynamics, as well as become a confident speaker. As an undergraduate student, Omar also served as an ambassador for the program, sharing his experiences with prospective students.
With a passion for helping people, Omar thanks the iSchool's undergraduate advisors for helping him understand what he truly wants to do. Being able to blend the technical skills and soft skills he learned from the program led him to pursue his current consulting position in cybersecurity.
As a proud iSchool alumnus, Omar says, "I'm truly confident that our alumni community will be an inspiring community. I can't wait to see what the future holds for all of us." When he's not mitigating cyber risk and threats, Omar is exploring new cities, cultures, and food around the world.