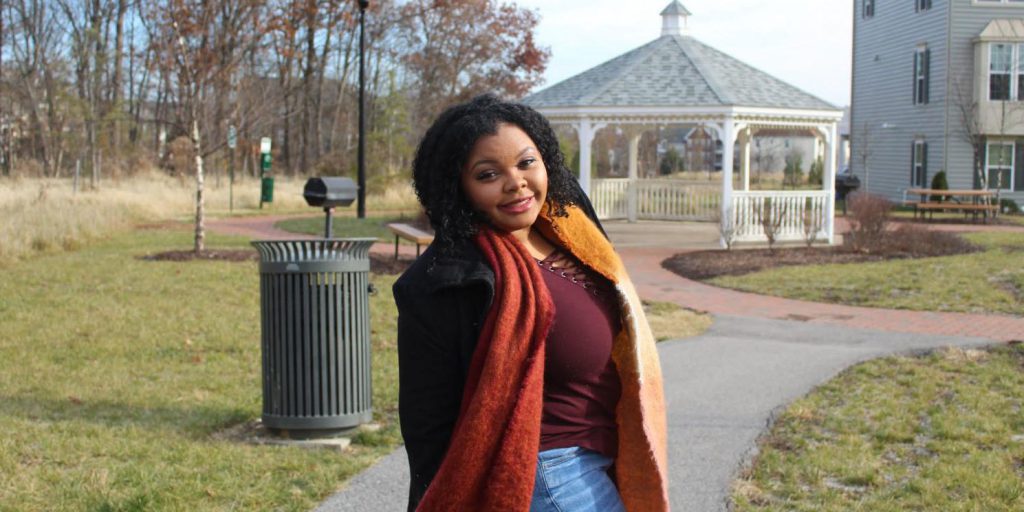 the_post_thumbnail_caption(); ?>
When the iSchool first introduced the information science undergraduate degree, InfoSci (BSIS), in 2016, Charell Adagala, BSIS 2018, was excited to switch her major and explore this new program. As a student of the InfoSci program, Charell enjoyed learning new disruptive technology, participating in interactive discussions with classmates, and building relationships in the iSchool.
Charell's education in cutting-edge technology and systems at the iSchool helped her to launch her career. One of the most significant concepts Charell learned was networks protocols in INST 346 – Technologies, Infrastructure, and Architecture. Although one of her most challenging classes, it was also one of the most impactful. She utilizes these network and device communication skills every day in her current position as an Infrastructure Architect at Accenture Federal Services.
When Charell was first offered the position of Infrastructure Architect, she was hesitant to accept. Charell felt underqualified for the role, but she remembered Dr. Jessica Vitak, associate professor at the iSchool, telling her that students tend to have "imposter syndrome" out of college and the most you can do in life is your personal best. Charell decided to take a leap of faith and accept the position – and couldn't be happier now in the role.
Since graduating, Charell has become an Amazon Web Services (AWS) Certified Developer-Associate (AWS CDA) for cloud-based applications. In pursuit of her fearless ideas, Charell's ultimate goal is to master cloud architecture and become a project manager.
Charell is also the president of the iSchool Alumni Network Board. She says, "Being an alumna for the iSchool is about encouraging those coming after us to keep going, inspiring them to want more, and remaining in contact with those who helped us get to where we are."
Outside of her career, Charell is a keen traveler. This past year, she went snorkeling in the Florida Keys, hiking at the Grand Canyon, hang gliding in Georgia and visited Sea World, Nashville, Disney World, and many beaches.