The iSchool catches up with the its first PhD graduate as she shares her legacy as one of the most influential leaders in library science education.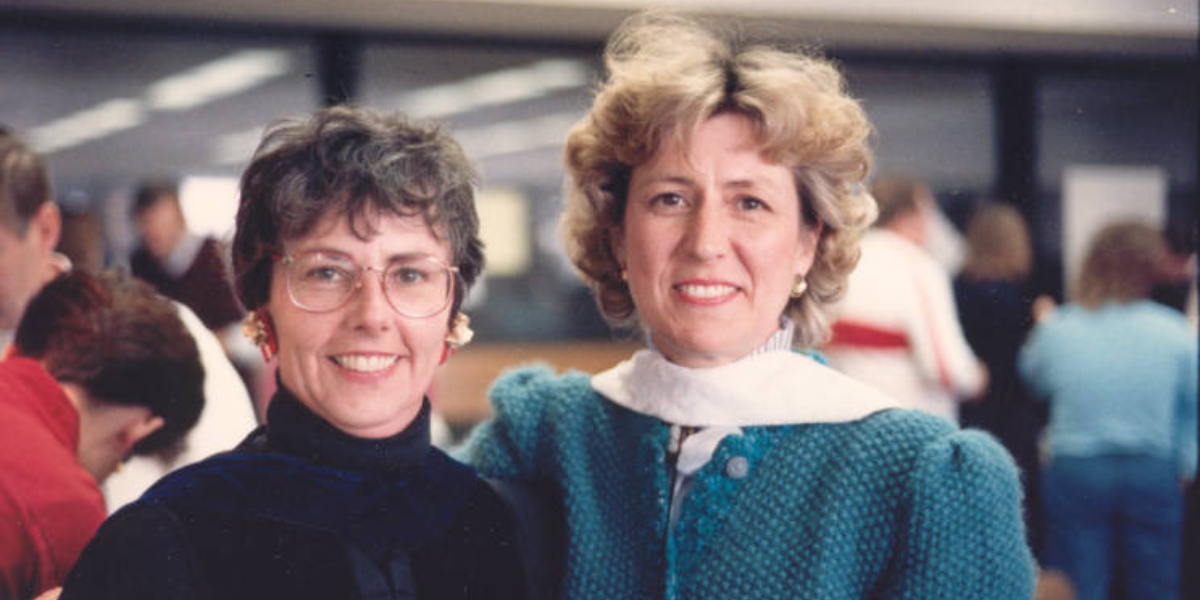 Jane Robbins (left) and Mary Keefer (right), 1988. Image courtesy of the UW-Madison School of Library and Information Studies Digital Collection.
the_post_thumbnail_caption(); ?>
Throughout the 1960s and 1970s, protests in opposition to the Vietnam War were emerging in several communities across the country, of which the University of Maryland campus was no exception. Automation was beginning to surface, introducing computer information retrieval capabilities. And the library services profession was beginning to stir amidst new voices advocating for innovation and the integration of new technologies.
As Jane Robbins prepared to finish her final weeks as an undergraduate student, she realized the elementary school education program she hoped to enroll in wouldn't admit her without an additional two years of undergraduate education studies. Concerned by this revelation and frustrated that her current academic repertoire wasn't enough to get her through the door, Dr. Jean E. Lowrie, who at the time was Director of the School of Librarianship at Western Michigan University (WMU), happened to overhear this conversation happening between Jane and her then husband. Jean invited Jane to discuss options in information science, and would eventually offer her admittance to the library program at WMU, along with a paid assistantship that same day. 
After receiving her MLS degree from WMU in 1966, Jane landed her first professional job at the Central Intelligence Agency in Washington, D.C where she briefly worked as a Cataloger. Not long after, she began a new job with the Library of Congress where she cataloged art museum materials for the LOC's Descriptive Cataloging Division. These experiences helped ignite her robust career in academia and establish her groundbreaking legacy as one of the most prominent female library school deans in the country. 
Jane moved back to Chicago to be with her family while working at the Transportation Library at Northwestern University. During this time, she met Ben Jacobson, who was the Director for the Transportation Library, and would become the catalyst for Jane's trailblazing career as a leader in academic librarianship. While supporting the University's graduate students, Jane and her small team of librarians regularly considered the library's impact on students and how it can support their needs. During this time, this mission was not reflective of the majority of libraries that were primarily focused on building tangible collections, rather than honing in on how library systems can support its patrons. She believed she could "use the education of librarians to subvert where librarians' heads were" by getting her PhD.
Subsequently, Jane enrolled in the doctoral program in the School of Library and Information Science, which is now the College of Information Studies, at the University of Maryland. Paul Wasserman and Mary Lee Bundy, co-founders of the Library School at UMD, were making headlines in the LIS field as they sought to challenge the state of the profession and articulate new ideas that combined current library service methods with emerging information science practices. 
Jane was inspired by Wasserman and Bundy who were advocates for more user oriented and innovative libraries. Like Wasserman and Bundy, Jane wished to be on the cutting edge of this new generation of libraries and how they can become beacons for communities, rather than cater to middle- and upper-middle-class needs and expectations which was the reigning gospel at the time. While at UMD, she worked on The High John Library project, which was intended as an outreach program to provide library services tailored for the under-resourced, low-income, and predominantly Black community in Fairmount Heights. This project ultimately transitioned into a learning lab for MLS students at UMD due to a lack of funding, but it remains the only attempt by a university library program to operate a public library as a central part of its education and public service mission. 
Jane was able to complete her PhD in just three years as a result of a fellowship offered by Wasserman and Bundy, becoming the first doctoral graduate from the School of Library and Information Science at UMD. She then moved into a series of library education roles, including assistant professor and Assistant to the Dean at the University of Pittsburgh, then associate professor at Emory University. In 1977, she was appointed as an associate professor at Louisiana State University's School of Library and Information Science.
In 1981, Jane was offered the deanship at the University of Wisconsin–Madison, a position which provided many opportunities and challenges. She was able to successfully head a well-established program and research community at a major university and develop a continuing outreach program to serve diverse audiences. By this time, Jane was a seasoned faculty member and researcher with a focused set of professional interests that centered on citizen participation in libraries. And because of her experience and gender, Jane was called to interview for virtually every open library school deanship position at the time. 
After a 13-year career at Wisconsin–Madison, she was appointed Dean of the School of Information Studies (now the School of Information) at Florida State University, one of the nation's first iSchools. At FSU, she helped solidify a new undergraduate major in information studies which has become the largest major at FSU. The program skyrocketed from 60 undergraduates to over 6,000 by the time, and from 11 faculty members to over 30, by the time Jane retired in 2004 after an 11-year stint at FSU. 
She was committed to hiring faculty for the undergraduate program who hadn't formally studied library science, which was deemed controversial among many at the University and the broader LIS profession. Jane was also determined to improve the diversity of the field and was the first to jump at any opportunity to provide more ways for students to access and education in LIS, including pioneering the University's first online learning program. Through funding provided by the Provost's Office, the library school became the first to offer live television broadcasts, a series of cohort programs across the university system, and even provide flights for students to attend class on campus a couple times per week. Concurrently, Jane encouraged faculty and staff to swiftly plan and launch a full degree program that could be completed wholly online. 
Among her accomplishments in academic leadership, Jane has received numerous honors, including the Beta Phi Mu Award (1994) and the Association for Library and Information Science Education (ALISE) Contribution to Library and Information Science Education Award (2000). She was president of the ALISE and the Wisconsin Library Association, and served several terms as a counselor of the governing body the American Library Association. She also wrote the book, Citizen Participation and Public Library Policy, and co-authored Libraries: Partners in Adult Literacy (Contemporary Studies in Information Management, Policies, and Services). 
To learn more about the PhD program at UMD's College of Information Studies, check out the program page here.