Events
Terps Makeathon Virtual Info Session
Event Start Date: Friday, March 12, 2021 - 5:00 pm
Event End Date: Friday, March 12, 2021 - 6:00 pm
Location: Virtual
---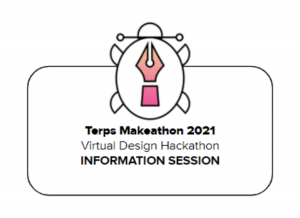 Terps Makeathon is an annual design hackathon held at the University of Maryland. The Makeathon empowers students from all academic backgrounds to come together and apply their diverse skills to solving real-world problems through design.
This year's virtual Terps Makeathon will take place on April 2-3, 2021. To prepare, we'd like to invite you to our first information session on Friday, March 12, 2021 from 5pm-6pm ET.
We'll give more details about the Makeathon, including participant registration (beginners and experts welcome), and will also answer any additional questions you may have for us.
You'll also learn more about our Makeathon sponsors (who are offering cash prizes to challenge winners!) and get tips on how you can prepare to complete a virtual design challenge.
If you are interested in attending, please sign up by clicking on the link below:
We hope to see you there!
If you are unable to make the information session, no worries! There will be another session offered at the end of March.
If you have any additional questions, please reach out to Team UXTerps at uxterps@gmail.com
Thanks!
Team UXTerps