Events
Social Data Science and Collective Resilience: Opportunities and Challenges
Event Start Date: Tuesday, April 13, 2021 - 12:00 pm
Event End Date: Tuesday, April 13, 2021 - 2:00 pm
Location: Virtual
---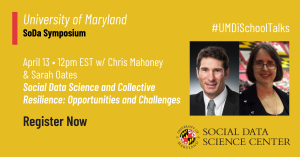 Speakers:
Chris Mahoney, Peloria CEO and Co-Founder
Sarah Oates, Professor and Senior Scholar,Philip Merrill College of Journalism, iSchool Affiliate Professor, University of Maryland
Moderator:
Dr. Susannah B. F. Paletz, Research Professor
Social data science can both strengthen and damage the fabric of civil society.  Predictive models allow us to respond as situations develop and either manage or magnify them.  Social data enables quick responses to unrest and conflict, active engagement with developing narratives, and identification of individuals and groups that are responsible.  The same models and data that can help build more effective, ethical and equitable communities can also damage and destroy them.  In this panel we will consider critical questions of when and how social data science supports collective resilience.