Events
MLA Conversations MLA/DLA Conference Preview with Kim Day, Amy Jenkins, & Andrea Berstler
Event Start Date: Friday, March 26, 2021 - 3:00 pm
Event End Date: Friday, March 26, 2021 - 4:00 pm
---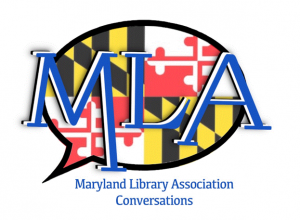 You can now register for the next of Maryland Library Association's MLA Conversations, this Friday, March 26, 2021 from 3:00 – 4:00 p.m. Eastern.
Join us for a preview of the upcoming 2021 MLA/DLA Joint Library Virtual Conference with three of MLA's member leaders:
Kim Day, Teen Interest Group
Amy Jenkins, Readers Advisory Interest Group
Andrea Berstler, Legislative Panel
Register for free at https://forms.gle/E6WkMaDp41g99xu49
You will be sent the login information from jthompson@carr.org. Registration will close 15 minutes prior to the start of the event. We will be using Zoom. Thanks for being a part of the conversation!
Did you miss our conversation last Friday, March 19 on the Maryland and Delaware Library Associations Conference Chairs Tyler Wolfe, Megan Sutherland, Jen Wilson, and Alison Wessel? Watch the recording at https://marylandlibraries.zoom.us/rec/share/AOUUBaRC02zZlfXMHFpIsxWHTkw4iU-SibiGB77kz6lqjzHjyyw2mLwlqBVSpG7k.1ZgvX0d2btcOEz5W.
Find archived recordings of past MLA Conversations at https://www.mdlib.org/content.asp?contentid=350. Make sure that you're subscribed to the Marylib email listserv https://www.mdlib.org/content.asp?contentid=153 to receive information each week on upcoming MLA Conversations!