Events
MLA Conversations on anti-Black racism in Libraries with Tahirah Akbar-Williams, Damon Austin, & Ashley Teagle
Event Start Date: Friday, March 12, 2021 - 3:30 pm
Event End Date: Friday, March 12, 2021 - 4:30 pm
Location: Virtual
---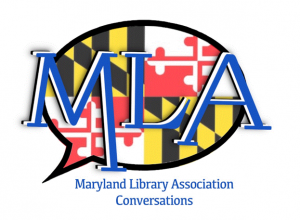 You can now register for the next of Maryland Library Association's MLA Conversations, this Friday, March 12, 2021 from 3:30 – 4:30 p.m. Eastern (a half hour later than usual).
Please join guest host Ashley Teagle, CEO, Southern Maryland Regional Library Association. We will have an honest conversation about anti-Black racism in libraries and how this bias presents itself in the library workplace with our guests:
Tahirah Akbar-Williams (College of Education & African American Studies, McKeldin Library, University of Maryland; Director of the Diversity Immersion Institute (DII) at the University of Maryland Libraries, Co-Diversity Officer, 2020-2021, UMD Libraries, Convener (Chair), ACRL African-American Studies Librarians IG 2019-2020, 2019 Winner of the James Partridge Award for Outstanding African American Information Professional
Damon Austin (Director of Library and Media Services, DeMatha Catholic High School. Also serving on Board of Directors of: PGC Historical Society, PGC Library Foundation, ALA Representative for The American Library in Paris Board of Trustees, and ABEN (A Black Education Network)
Register for free at https://forms.gle/73NT8zWd2kNfSazk6. You will be sent the login information from jthompson@carr.org. Registration will close 15 minutes prior to the start of the event. We will be using Zoom. Thanks for being a part of the conversation!
Did you miss our conversation last Friday, March 5 on Staff Development in Public Libraries with Nini Beegan, Maurice Coleman, Katie George, & Jaleen Walker? Watch the recording at https://marylandlibraries.zoom.us/rec/share/me9916RTXyUnHDqL7y7b7D0JonoDGBQLeF4B05IK89tp_TkPU6OLRjlQ0UKfTh36.CJxUUze0ey0l05Fg.