Events
MLA Conversations about Maryland's Regional Libraries
Event Start Date: Friday, May 14, 2021 - 3:00 pm
Event End Date: Friday, May 14, 2021 - 4:00 pm
Location: Virtual
---
We are taking this week off so that everyone can enjoy the MLA/DLA virtual conference, but you can now register for Maryland Library Association's MLA Conversations taking place next Friday, May 14, 2021 from 3:00 – 4:00 p.m. Eastern.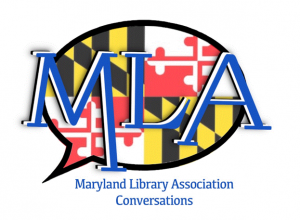 Join host Joe Thompson for a conversation about Maryland's Regional Libraries. We'll hear about the special role that they play in supporting the public libraries in the western, southern, and eastern parts of the state.
Guests:
Elizabeth Hulett, Director, Western Maryland Regional Library (WMRL)
Ashley Teagle, CEO, Southern Maryland Regional Library Association (SMRLA)
John Venditta, Administrator, Eastern Shore Regional Library (ESRL)
Register for free at https://forms.gle/d2zAoetHLKZxLnXLA. You will be sent the login information from jthompson@carr.org. Registration will close 15 minutes prior to the start of the event. We will be using Zoom. Thanks for being a part of the conversation!
Did you miss last Friday's conversation with Sam Edington (MLA's Public Services Division) and Jill Hutchinson (MLA's Children's Services Division)? Watch the recording at https://marylandlibraries.zoom.us/rec/share/2xlQjy1TeEuxp55ADVoIMiFgWN7heLEDf5cJZilIyVN2fHO5dTemSkyHQ5MbnYw.gcHZ0dJ44fw_R2IR.
Find archived recordings of past MLA Conversations at https://www.mdlib.org/content.asp?contentid=350. Make sure that you're subscribed to the Marylib email listserv https://www.mdlib.org/content.asp?contentid=153 to receive information each week on upcoming MLA Conversations!