Events
HCIL BBL Speaker Series: Tips and Tricks to Prepare Videos and Make them Accessible
Event Start Date: Thursday, March 25, 2021 - 12:30 pm
Event End Date: Thursday, March 25, 2021 - 1:30 pm
Location: Virtual
---
When: Every Thurs during the semester from 12:30p – 1:30p ET
Where: For Zoom info, register here!
Speaker: Hernisa Kacorri & Catherine Plaisant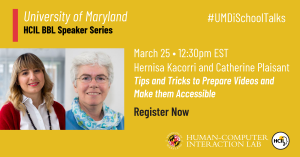 Abstract.
We will share general principles and tips to produce high-quality videos (software demonstrations, talk presentations, etc.) then open the floor to hear from other members of HCIL what other techniques you have found useful or what questions you have. We will pay particular attention to steps you should take to make your videos accessible. This session is NOT an introduction to video editing tools. It will focus on producing research videos for conferences such as CHI, VIS or CSCW.
Bios.
Hernisa Kacorri is an Assistant Professor in the College of Information Studies. She holds an affiliate appointment in the Department of Computer Science and the Human-Computer Interaction Lab at the University of Maryland, College Park, and serves as a core faculty at the Trace R&D Center. She received her Ph.D. in Computer Science in 2016 from The Graduate Center at City University of New York and has conducted research at the University of Athens, IBM Research-Tokyo, Lawrence Berkeley National Lab, and Carnegie Mellon University. Her research focuses on data-driven technologies that can benefit the disability community, with an emphasis on rigorous, user-based experimental methodologies to assess impact. Hernisa is a recipient of a Mina Rees Dissertation Fellowship in the Sciences, an ACM ASSETS best paper award and the best paper finalist, an ACM CHI honorable mention award, and an IEEE WACV best paper award. She has been recognized by the Rising Stars in the EECS program of CMU/MIT.
Catherine Plaisant is a Senior Research Scientist at the University of Maryland Institute for Advanced Computer Studies and Associate Director of Research of the Human-Computer Interaction Lab. Catherine earned a Doctorat d'Ingénieur degree in France (similar to an Industrial Engineering PhD). In 1988 she joined the Human-Computer Interaction Laboratory where she has been working with multidisciplinary teams on designing and evaluating new interface technologies that are useful and usable.
Community Events Student Competitions/Showcases Research Talks/Events