Events
Douglass Day 2022
Event Start Date: Monday, February 14, 2022 - 12:00 pm
Event End Date: Monday, February 14, 2022 - 3:00 pm
Location: Virtual
---
Frederick Douglass was born into slavery, but gained his own freedom and helped many others to do the same. We celebrate his life of service and activism on the UMD campus with a powerful statue outside the Hornbake Library depicting Douglass mid-speech. Douglass never knew his birthdate, but he chose to celebrate every year on February 14th. Douglass Day is an annual event that was first suggested as a national holiday by Mary Church Terrell, a DC school teacher in the segregated Black school system, a fellow activist, and friend of Douglass'. The day is now organized and celebrated annually by scholars, activists, and students at Penn State, who invite other communities, like ours, to help create new and freely available resources for learning about Black history.
The University of Maryland's iSchool is excited to invite you to participate in this year's Douglass Day celebration and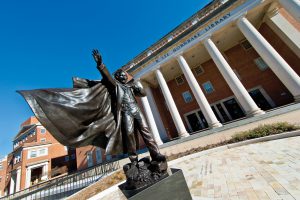 transcribathon on Monday, February 14th, 2022, from 12pm-3pm. Everybody is welcome from the UMD community and beyond, so feel free to bring some friends. No prior knowledge of Douglass or of reading handwriting is required!
REGISTER TO PARTICIPATE IN THE TRANSCRIBATHON
Douglass Day 2022 will feature the digitized records of the Colored Conventions, the nineteenth century's longest campaign for Black civil rights. Together with groups all around the country and the world, we will transcribe documents and learn about the long history of Black activism — including the important roles of Black women in the conventions! There will be presentations, music, and cake–if you participate in the 2nd Annual Douglass Day Bake Off. Even though we'll be virtual this year, you can participate in the Bake Off by using the hashtag #GreatDouglassDayBakeoff and posting a picture of your cake online. Feel free to eat all the cake on your own, or share it with friends and family.