Events
A Century of the 19th Amendment: Perspectives on Women's Rights in the U.S.
Event Start Date: Wednesday, March 31, 2021 - 12:00 pm
Event End Date: Wednesday, March 31, 2021 - 1:00 pm
Location: Virtual
---
Powered by the UMD Libraries and the UMD College of Information Studies in honor of Women's History Month.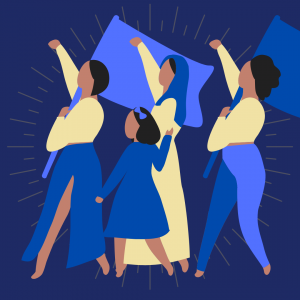 A virtual lunchtime talk with Ruth Igielnik, Senior Researcher, Pew Research Center, and UMD Alumna
Join us for this enlightening lunchtime talk as we explore the results of a major survey on perceptions about women's rights conducted by the Pew Research Center, a nonpartisan fact tank based in Washington, DC.
In addition to highlighting key takeaways from the study, "A Century After Women Gained the Right to Vote, Majority of Americans See Work to Do on Gender Equality," Ruth Igielnik, a senior researcher at the Center and a University of Maryland alumna, will share insights into how the Center's polling, analysis, and empirical social science research aims to inform the public about the issues, attitudes, and trends shaping the world.
This virtual webinar will include comments from Jessica Vitak, Associate Professor at UMD's iSchool and Co-Director, Center for the Advanced Study of Communities and Information (CASCI).
Ruth Igielnik is a senior researcher at Pew Research Center. She focuses on the Center's research on social and demographic trends, politics, and methodology. Igielnik is a contributing author of studies about voter files, likely voter modeling, gun ownership as well as other social and demographic changes happening across the U.S. Before joining the Center, Igielnik worked in political polling for campaigns and candidates. She received her master's degree in public policy with a specialization in data analytics from Carnegie Mellon University and a bachelor's from the University of Maryland. Igielnik is an active member of the American Association for Public Opinion Research and regularly presents at the organization's annual conference.
Please note that all University Libraries events in Spring 2021 are virtual. Registrants will receive an access link upon registration. To access events, users must sign into Zoom.