Events
Black Computational Poetry Reading & Workshop: Lillian-Yvonne Bertram at AADHum
Event Start Date: Friday, April 2, 2021 - 12:00 am
Event End Date: Friday, April 2, 2021 - 11:59 pm
---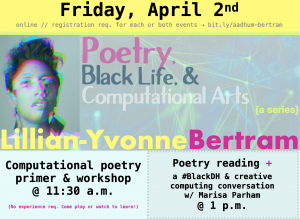 Join us for a day of creative computing at AADHum, as Dr. Lillian-Yvonne Bertram introduces us to her work in computational poetry. Come think about data in a whole new way, by focusing on what is brewing at the intersection of digital humanities, electronic literature & Black literary and cultural studies!
Computational poetry is a term given to poems and poetic practice that generate texts out of data science tools and other programming strategies. In many of their poems, Bertram might create a data set out of Gwendolyn Brooks' poetic oeuvre or Wikipedia entries, and then construct poems out of their experience with that output. An example of this kind of work is Bertram's searing and searching "@Tubman's_Rock," which you can read in the Boston Review.
We are offering two events with Dr. Bertram on Friday 4/2. Register for one or both ⇢ bit.ly/aadhum-bertram
11:30 am
As a #BlackDH practitioner, Bertram has expanded the boundaries of electronic literature, Black digital humanities, and poetic tradition. In this session, participants will learn about Bertram's work as a poet and as a programmer, and can also learn how to start playing on their own!
1:00 pm
In part two of our day, Dr. Bertram will offer a selection of poetry readings. We will then host a conversation between Bertram and Dr. Marisa Parham, director of AADHum. They will be discussing their experiences as creative computing practitioners, with an eye to how their work fits into larger stories about Black creativity and digital humanities.
Of Travesty Generator, Bertram's recently published volume of computational poetry, the poet Dr. Evie Shockley offers the following. We share this with you as a sense of how Bertram's work brings important methods and insights to Black digital humanities:
"In the wake of a racist microaggression, two people of color might look at each other and say, "That was random"—ironically meaning it was anything but. By the same token, the poems of Lillian-Yvonne Bertram's Travesty Generator use computational processes to demonstrate that randomness offers no escape from the patterns that grief and outrage form in black lives. Composed with (and sometimes of) permutation programming code and algorithms, these poems run relentless procedures on the language of black death and black survival. Bertram's poetic "output" will confuse and frustrate you, then mesmerize and haunt you—feelings generated by the poetry, as by the very terms of black life in this country."