Adjunct Lecturers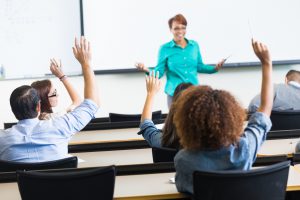 Enjoy being part of a vibrant academic community while helping to build the next generation of information professionals!
The University of Maryland College of Information Studies is looking for information studies practitioners to join our faculty team as adjunct lecturers. At the College of Information Studies, we believe it is imperative that we bring the hands-on experience of practitioners into our classrooms. Our students benefit from working on real-world projects with hundreds of government, non-profit, and industry experts each year.
The College of Information Studies is currently seeking adjunct lecturers in topics such as:
| | |
| --- | --- |
| Computational thinking | Data analytics |
| Python programming | Data engineering |
| Web development | Cloud computing |
| Social computing | User-centered design |
| AR/VR/XR | Sociotechnical cybersecurity |

Diversity Statement
The UMD College of Information Studies strives to be a diverse, equitable, inclusive, and welcoming environment. Hence, we strongly encourage applications from people who identify as members of underrepresented, underserved, and/or marginalized communities.
Note: If you need a reasonable accommodation in the application process, please notify the college's HR Team at ischoolhr@umd.edu.
EEO/AA Statement
UMD is an Equal Opportunity/Affirmative Action Employer; all qualified applicants, including veterans and people with disabilities, will receive consideration for employment. UMD is actively engaged in recruiting, hiring, and promoting underrepresented communities. Please read the entire UMD Equal Employment Opportunity and Affirmative Action Statement of Policy.
Title IX Non-Discrimination Notice
UMD does not discriminate on the basis of sex, gender identity or expression, sexual orientation, race, color religion, national origin, ethnicity, physical or mental disability, protected veteran status, age, genetic information or any other characteristic protected by law in its programs and activities. Specifically, Title IX prohibits discrimination on the basis of sex in UMD programs and activities, including with respect to admission and employment.